Description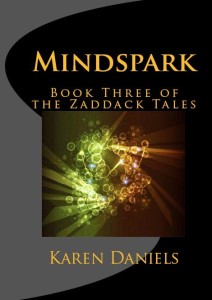 Book 3 Mindspark
A great Dark is sweeping through the universe, killing all life that dares to stand in its path.
In MindSpark, the startling third book in The Zaddack Tales series, life in the Universe is pitted against an elemental force that brings a fate worse than death. On old Earth the finest minds in the Affiliation struggle to find some way for life to survive. But the slim possibility for deliverance falls to one individual, a soul-damaged human turned oreseeker named Jaspen who is psychically linked to crysolium, ore that can be infused with mindsparks.
But Jaspen must first overcome his fears and give up the one thing he lives for – the only thing he has ever cared about.
You won't believe the amazing conclusion to this epic adventure.