Description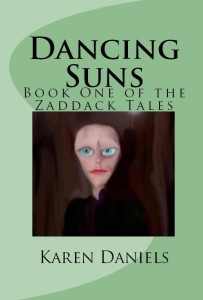 Book 1 Dancing Suns
A quest forged from duty and challenged by desire. Dancing Suns is a tale of the last human beings, their friendships and personal struggle.
Pursued for generations by the mercenary Bioguards, human descendants have created a final sanctuary on Riatha, a planet with two suns. When they are discovered and attacked, Serall escapes with Kafa, a highly evolved creature known as a zaddack, with whom she is mentally bonded. An inviolate duty to find the last three remaining humans collides with personal desire when Serall meets Runak, an oreseeker. This legendary being bequeaths to her a medallion, a key to unlocking the power of crysolium—the ore that holds the mindsparks of the dead.
Serall must keep her heritage hidden from the native Riathans, a people who live under the shadow of the prophecy—When the time of the two suns is to end, a zaddack will be sent forth, One Who Knows, to lead those who are chosen to the land of the blue sky.